About Joanne J
About Joanne J
I blogged about international giveaways around the world. If you are interested to be the next Giveaway, please email me at joanne.j@hotmail.com
In addition, I write reviews for companies, websites, products and services. I work to promote the companies I work with. Although I am compensated to provide opinion on products, services and websites, I always give my own honest opinions. Thank you.
Joanne J

Wednesday, May 19, 2010
"Who Grew My Soup?" Book + 4 Cans of Campell's Soup Giveaway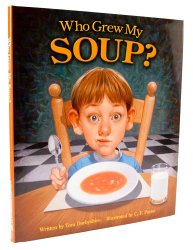 Prize:
A copy of the children's book, "Who Grew My Soup?", and four cans of Campbell's soup!
Ends: May 30
Enter
http://www.contest-corner.com/who-grew-soup-book-4-cans-campells-soup
Posted by

Joanne J
at 7:30 PM